Discover more from Batko OS
The World as a System
Over 2,000 subscribers
Spotlight #7 - Startups & Operators
Batko OS - increase your surface areas for luck to strike.
I'm experimenting with one additional section - an angel spotlight.
So now, it's official - this fortnightly edition is a one-stop-shop for all things startups, whether you want
investment - (1) connect to an angel or (2) get featured

invest - (1) look through startup spotlight or (2) get featured

hire - (1) look through operator spotlight or (2) get jobs featured

job - (1) look through jobs (2) startups that raised or (3) get featured
😇 Angel Spotlight
Do you want to be featured as an Angel? Fill this out (10mins)
💸 Startup Spotlight
Do you want to be featured to Angels/VCs? Fill this out (10mins)
🛠 Operator Spotlight
Looking for a job? Get featured in the next Operator Spotlight - fill this out.

Have a job you want featured? Hit reply and send it my way.
What's in this Edition?
Get Investment - Angels keen to connect

Invest - Startups keen to connect

Hire - Operators ready for a startup job

Apply - Latest startup jobs

Join - Startups that just raised
---
1) Get Investment - Angel Spotlight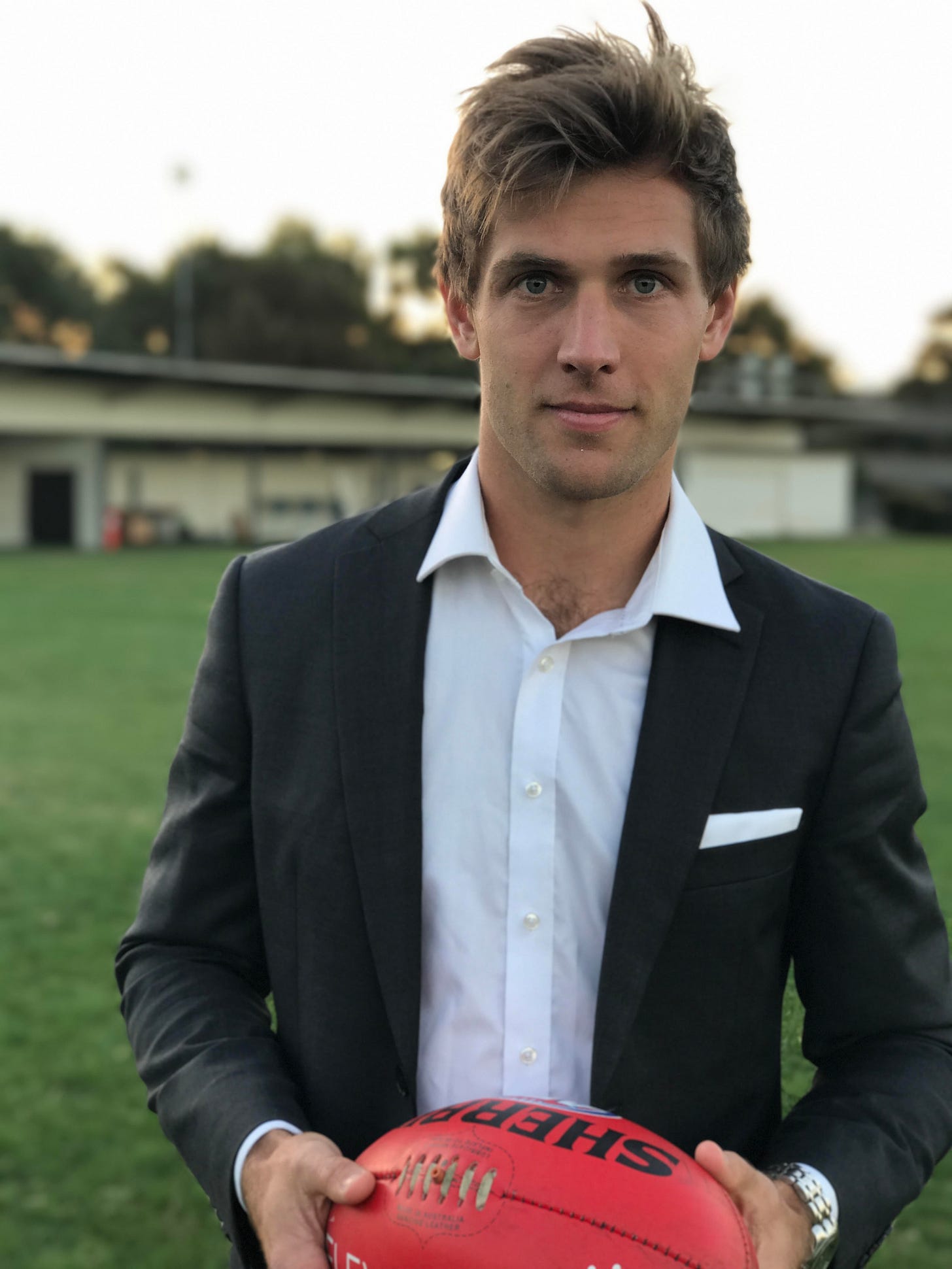 Industry: Sector agnostic

Stage: Open Series A or just before

Check Size: 100k-1m - we syndicate investments from a growing group of athletes interested in the venture space.

Investments to date: Eucalyptus and Fusion Sport
Athletic Ventures is a group of past and present athletes who have banded together to get access into exclusive venture deals in Australia. Typically investing post-revenue, at the early stages of development and alongside a lead investor. AV is seeking companies that would benefit from having athletes from multiple codes rolled into one vehicle (Athletic Ventures) on their register. We have participants from AFL, Rugby League, Union, Cricket, NBA, Netball and will be looking add value post-investment.
Mandate
Startups are on a similar journey to elite sports teams - you require grit, a clear purpose, a fantastic team and powerful leadership. Therefore Athletic Ventures is looking for founders with a growth mindset who are building a championship grade team.
>> Get an intro here. + Tell us how you fit the thesis.
---
2) Invest - Startups Keen to Connect
🚨 Disclaimer* 🚨  This is not financial advice, nor a recommendation. Please connect with the founders directly to hear more.
Capture remote meeting insights, with easy access to the meeting knowledge base & share key items throughout the organization.
Problem
Synchronous & Asynchronous communication within remote teams.
Solution
Allowing users to easily capture, summaries and store meeting insights.
Problem
We have seen a consistent growth rate of 10% WoW and now have over 60,000 active users, who are generating over 67,000 meeting documents per week. So far we have processed over 250,000 meeting documents in total.
Central Unique Insight
Meeting insight biases.
---
3) Hire - Operators ready for a startup job
Location: Melbourne (open to relocate / remote)
Past Roles: Lead @ Snobal, CTO @ Investorist, Director of Software @ Blackmagic Design
A bit more about me:
I've been programming since I was a kid and sold my first software in high-school. I've since worked for CSIRO on R&D projects, for SGI on performance tuning super-computers, and scaled Blackmagic Design's Software Team from over a period of 8 years while bringing up 10+ new electronic product lines, manufactured in house. I have a passion for deep tech & R&D.
Ideal Next Industry: Something that matters in Deep Tech / R&D / Innovation
Ideal Next Role: CTO / Head of Software / Director
>> Connect Here
Location: Melbourne (happy to relocate)
Past Roles: Growth @ Mobble, Founder @ Startup-Funding.com.au, Analyst @ Superseed Ventures
A bit more about me:
I have an analytical mind and entrepreneurial personality, so I do two things well - solve problems and answer questions/generate insights.

My most recent examples of this are: coding and launching www.Startup-Funding.com.au, producing investor analyst reports for founders (https://medium.com/aussie-startup-funding) and helping to grow Mobble's revenue by 50% over the last 4 months.
Fun Facts: Lived in China for 3 years, grew up on a farm, studying Master of Analytics
Ideal Next Industry: High growth tech | Innovation capital markets
Ideal Next Role: Growth Specialist (Analytics, Insights & Ops), Investment Associate
>> Connect Here
Location: Sydney
Past Roles: Head of Operations @ Future Golf, National CX Manager @ B&D Strata Management, Head of Operations @ Splend

A bit more about me:
- Wrote a craft beer and restaurant review blog, long before Instagram made it easy
- Had an article written about me in a national newspaper in Scotland, for positive reasons
- Have a great family made up of an amazing wife, 2 cracking boys and a cat
Ideal Next Industry: Open to persuasion
Ideal Next Role: Not tied to a title, looking for role fit
>> Connect Here
Location: Sydney
Past Roles: Technology Manager at beIN SPORTS, Regional Head at Dolby, Head of Strategy & Innovation at Intigral Dubai.
A bit more about me: I've worked in literally underground R&D labs for consumer electronics companies in Seoul, and was once paid by record labels to pirate their content.
Ideal Next Industry: Diverse interests, except Blockchain and fossil fuels
Ideal Next Role: Junior VP (Acting) of Really Actually Moving The Needle
>> Connect Here
---
4) Apply - Latest startup jobs
These are new roles which were posted in the last two weeks.
Startmate Alumni
Startups
VCs
---
5) Join - Startups that just raised
Pro tip: Companies often time their fundraising PR when they are ready to hire.
---
* The information contained in this Startup Spotlight Series (the Information) is provided for information purposes only. No warranties or representations are made by Startmate or myself with respect to the accuracy, completeness or currency of the Information and no part of the Information may be relied upon for any purpose whatsoever.
The provision of the Information to any person does not constitute, and may not be used for the purposes of, an offer of securities or interests of any kind to that person or an invitation to any person to apply for the issue of securities or interests of any kind. In preparing the Information, neither Startmate or I have taken any account of the investment objectives, financial situation and particular needs of any particular person, and prospective investors must not construe the Information as tax, legal or financial product advice.  Before making any decision to invest, prospective investors should:
(a)         connect directly with the founders of each portfolio company to find out further information;
(b)         seek and rely on their own professional advice, in particular by obtaining appropriate tax, legal, financial and investment advice in light of their own circumstances; and
(c)         conduct their own independent investigation and analysis regarding the Information.
No responsibility or liability is accepted by Startmate, its related bodies corporate, or any of their respective officers, employees, agents or advisers, for any of the Information, any omission from the Information or for any action taken by any person on the basis of or in reliance on the Information; and
The Information is only intended for persons who are "wholesale clients" within the meaning of the 
Corporations Act 2001
 (Cth) and to US persons who are "accredited investors" as defined in Regulation D of the US Securities Act 1933.