Discover more from Batko OS
The World as a System
Over 2,000 subscribers
Spotlight #6 - Startups & Operators
Batko OS - increase your surface areas for luck to strike.
Hi Team,
It seems like the spotlights are working 🔥
The features truly lived up to the goal of increasing the surface area of luck to strike and have facilitated:
1x angel investment

1x internship so far.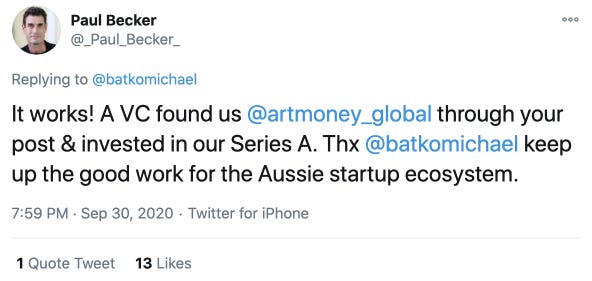 Now that the spotlight has gained momentum, I'll consolidate all startup and operator features into one email every (roughly) fortnight on Mondays.
💸 Startup Spotlight
Do you want to be featured to Angels/VCs? Fill this out (10mins)
🛠 Operator Spotlight
Looking for a job? Get featured in the next Operator Spotlight - fill this out.

Have a job you want featured? Hit reply and send it my way.
What's in the Spotlight?
Invest - Startups keen to connect

Hire - Operators ready for a startup job

Apply - Latest startup jobs

Join - Startups that just raised
---
1) Invest - Startups Keen to Connect
🚨 Disclaimer* 🚨  This is not financial advice, nor a recommendation. Please connect with the founders directly to hear more.
Sleep deprivation is one of the biggest issues influencing our mental health and nowhere is it more obvious than with new parents.
Problem
Bringing sleep to those who need it most.
Solution
Using just the MVP alone we saw a 70% success rate but when combined with a physical product to help strengthen the learnings of the MVP we have seen a 98% success rate.
How do you know it's a problem?
7% of all children in Australia under 5 now own and use a Glow Dreaming to get to sleep. Our brand Glow Dreaming has now sold over 100,000 units in Australia.
We are looking at an EBITDA of $2m for this calendar year.
We are also expanding into the UK due to demand from that market. We have a database of over 20,000 customers for the UK and will be launching there in the first week of November.
Today 70% of all our sales are our Premium Bundles which include our new MVP app. It allowed us to increase our price from $130 to $150 with no additional cost to the business.
What's your central unique insight?
Over 4 years and after helping over 100,000 customers get a better nights sleep using just a device and our team of sleep specialists we discovered a number of fascinating trends coming through our Zendesk help desk. Using this data we developed an MVP app to test our theories. The algorithm tackles sleep issues from a perspective not engaged before.
With over 5000 parents now having tested our MVP we know we are on a winner. We've reduced our sleep specialist team from 4 to 1 part-time employee and seen our success rate increase dramatically.
Tournicare is developing a connected, user-friendly and consumer-centric blood pressure monitor and hypertension management system - addressing inaccuracies, lack of compliance and accessibility in the home BP market.
Problem
Hypertension, or high blood pressure, is the most significant risk factor for the biggest global killer – cardiovascular disease (CVD). Statistics show 6 million Australians and 100 million Americans suffer from hypertension. Fortunately, with accurate diagnosis and monitoring, hypertension can often be treated successfully. With ever-increasing healthcare costs and global trends moving to preventative home care, monitoring and managing the most important modifiable cardiovascular risk factor needs to be made easier.
Unfortunately, available products for monitoring blood pressure are cumbersome for home use. The century-old cuff is best applied in a clinical setting by someone other than the patient, as it requires two hands. Issues with this design explain the reported 33% pre-analytical error rate.
Solution
By developing a unique, patented and consumer-centric BP monitor, coupled with a flexible telemonitoring system, Tournicare aims to improve all three stages of BP measurement (pre-analytical, analytical and post-analytical).
Pre-analytical & Analytical
Benefits result from easy and accurate placement by untrained users of any skill level. This ease of use increases accuracy and compliance.

Post-analytical
Improvements are achieved through personalised BP management including data recording, an interactive app and cloud-based analysis, reducing ongoing demands on physicians.
How do you know it's a problem?
In Australia, 34% of adults suffer from hypertension (NHFA). In the US this number is even higher, with 46% of the adult population suffering from hypertension (AHA). Incorrect BP measurements are a major concern. However, 1 in 3 measure BP incorrectly at home (Omron Healthcare market research). This aligns with our own market research which indicates 37% of home users have difficulty applying a traditional BP cuff and 21% have difficulty tightening BP cuffs, leading to mistakes.
If the measurement is erroneously low, the patient may not receive appropriate treatment to prevent a stroke or heart attack. Conversely, if the measurement is erroneously high, the patient may unnecessarily embark on a lifetime of blood pressure-lowering drugs.
Tournicare has secured a strategic US investor, is already receiving interest from several US telemonitoring platforms and has received a roadmap to store placement from a large US pharmacy chain (over 9000 stores).
What's your central unique insight?
Hypertension is also a significant determinant of an individuals' overall cardiovascular risk. Lowering blood pressure by just 1–2 mmHg within a population is known to markedly reduce cardiovascular morbidity and mortality. Modifying lifestyle factors can effectively, contribute to the reduction of blood pressure in treated patients with hypertension and may reduce or eliminate the need for antihypertensive therapy.
Ludis Analytics is a low code data science platform for professional sports teams.
Problem
Ludis Analytics solves complex and inefficient data science workflows to allow teams to better manage and gain insights from their data.
Solution
We have developed a low code, end-to-end platform saving organisations valuable time and resources and facilitating better communication and collaboration.
How do you know it's a problem?
We have over 10 active trails with sports teams across NBA, NCAA-Basketball and Major League Rugby. We are also currently negotiating our first paid customer engagement with an AFL team. This problem has also been validated by career data scientist who has joined Ludis as an Advisor, having worked across AFL, Cricket, Netball and Soccer teams across the world. We have also had inbound interest for US universities to use the platform for computer science classes and also negotiating use of the platform in a smart cities / mobility use-case to allow cities / municipalities to better manage their data.
What's your central unique insight?
Data Science will transform the efficiency and performance of many industries over the coming decades. Professional sports teams are highly competitive, and receptive to the adoption of new tools and approaches to gain valuable insights and an edge over their competition. However, the professional sports industry is underserved in its adoption and utilisation of data science with the recent explosion of IoT devices, health and wellbeing and video data. This combination of factors represents a unique opportunity for Ludis Analytics.
AgUnity is a global technology platform empowering thousands of organizations working toward UN Sustainable Development Goals to connect the last mile.
Problem
1.8 billion people around the world live in poverty, in part because of their lack of identity and access to basic digital services which are relevant to their specific needs.
Solution
By ensuring low-income farmers have access to relevant, impactful functions and services in a way that matches their needs and their digital skills.
How do you know it's a problem?
We have completed projects in 7 countries impacting thousands of farmers who have seen substantial increases in income. We have recently secured new projects with FairTrade International, World Food Programme, GIZ and CASA which will reach to tens of thousands of farmers in 6 additional countries. We had US$685k in revenues last year and are tracking to $1.5 million this year.
What's your central unique insight?
AgUnity works hand-in-hand with its partners and clients to provide a viable means to reach the last mile people and lift them out of poverty with a smartphone and operating system ecosystem that provides people living in, and working with, the last mile with practical, accessible tools to connect with each other and establish effective lines of communication and an ethical, accountable means of trade.
---
2) Hire
- Operators ready for a startup job
Location: Sydney
Past Roles: Product Manager @WardWorx, Full-time MBA Candidate @ AGSM (UNSW), Medical Doctor @ 1 Military Hospital (South Africa)

A bit more about me: Some interesting things I have done:
fished out bullets from bodies, stitched together stab wounds, delivered babies and broken bad news to families that a loved one has passed away

sold thrift and vintage fashion via ecommerce channels through my own social enterprise

run a 98km ultramarathon
Ideal Next Industry: HealthTech
Ideal Next Role: Product Manager
>> Connect Here
Location: Sydney
Past Roles: Head of Product @ Fergus, Director @ Product Innovation Firm, Founder and CEO @ Oye Modern
A bit more about me: Have founded and run my own business, was CEO of a boutique consulting firm, and have lived and worked in Australia and USA. I'm a designer and problem solver at heart, with good commercial and business acumen. I excel at defining a vision, creating a strategy to get there, and then executing on it.

Ideal Next Industry: Any except fintech
Ideal Next Role: CPO/Head of Product
>> Connect Here
Location: Sydney
Past Roles: Deals financial advisory @ PwC, Market Analyst @ Idemitsu Australia

A bit more about me: I've lived across 4 different continents and have experienced cultural diversity and how they affect people's beliefs, values, and attitudes. I believe having these kinds of experiences and knowledge help people build deeper connections with each other.

Ideal Next Industry: Industry agnostic
Ideal Next Role: Investment analyst or Operations
>> Connect Here
---
3) Apply
- Latest startup jobs
These are new roles which were posted in the last two weeks.
Startmate Alumni
Startups
VCs
Bonus: MAP just launched a job board for their portfolio - here
---
4) Join - Startups that just raised
Pro tip: Companies often time their fundraising PR when they are ready to hire.
---
* The information contained in this Startup Spotlight Series (the Information) is provided for information purposes only. No warranties or representations are made by Startmate or myself with respect to the accuracy, completeness or currency of the Information and no part of the Information may be relied upon for any purpose whatsoever.
The provision of the Information to any person does not constitute, and may not be used for the purposes of, an offer of securities or interests of any kind to that person or an invitation to any person to apply for the issue of securities or interests of any kind. In preparing the Information, neither Startmate or I have taken any account of the investment objectives, financial situation and particular needs of any particular person, and prospective investors must not construe the Information as tax, legal or financial product advice.  Before making any decision to invest, prospective investors should:
(a)         connect directly with the founders of each portfolio company to find out further information;
(b)         seek and rely on their own professional advice, in particular by obtaining appropriate tax, legal, financial and investment advice in light of their own circumstances; and
(c)         conduct their own independent investigation and analysis regarding the Information.
No responsibility or liability is accepted by Startmate, its related bodies corporate, or any of their respective officers, employees, agents or advisers, for any of the Information, any omission from the Information or for any action taken by any person on the basis of or in reliance on the Information; and
The Information is only intended for persons who are "wholesale clients" within the meaning of the 
Corporations Act 2001
 (Cth) and to US persons who are "accredited investors" as defined in Regulation D of the US Securities Act 1933.